SAP CRM | Dispatch Servicerequest
ServiceRequest Dispatch
Goal
Instead of having users to choose from a list of responsible service teams, you want to dispatch a servicerequest to a dedicated service team based on the chosen category. This functionality is delivered by SAP CRM using the Dispatch Functionality. Next to routing of the servicerequest, you can also execute other actions, like increasing the priority.
This document helps you to get this up & running.
Schematic overview: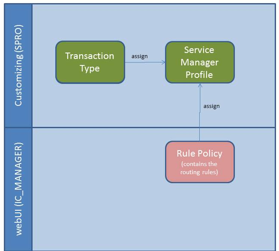 Transaction types have to be assigned to a service manager profile that contains rule logic for the routing. Such service manager profile is available in standard customizing. This profile has an attribute 'Policy'. The name of the policy must match the rule policy that is maintained in the IC_MANAGER role in the WebUI.
Step 1: Category Model
In the WebUI (role IC_MANAGER): Knowledge Management >  Categorization Schemas. The Categorization Schema you use for your categorization, has to be assigned to the rule modeler application area:

Make sure you have assign Application ID 'Rule Modeler'.
Step 2: ServiceManager Profile
This step is optional. See comments at the end of this step.
In SPRO: CRM > IC WebClient > Additional functions > Intent-Driven Interactions > Service Manager > Define Service Manager profiles.
Make a copy of profile SAP_SRQMROUTING to ZSAP_SRQMROUTING.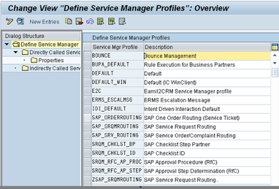 In this profile, go to Directly Called Services, Properties. Assign this profile to a new policy.
We call this policy ZTEST.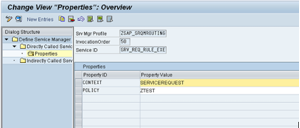 In stead of making a copy and adding the policy ZTEST, you can decide to use the standard profile which has policy DEFAULT_ROUTE. If you stay with the default settings, in the next steps, also use the default names in stead of the values we just defined.
Step 3: Assign profile to transaction type 
SPRO: CRM > Transactions > Additional settings > Assign dispatching rule profile to transaction type.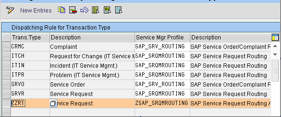 Step 4: Rule Editor 
In the WebUI (role IC_MANAGER): Process Modeling > Rule Policies: create a new rule policy for the service request context. Use the name of the policy you has chosen in step 3.

Add a new rule to the policy. We call it 'TRIAL'. Add a condition (filter) and one or more actions.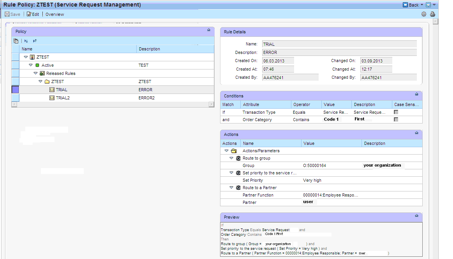 This rule says:
(Condition:) if transaction type =  ZZR1 (not visible in screen print) and category contains Code 1,
(Actions:) then:
(action 1) assign Organizational Unit 50000164 to the service request and
(action 2) set priority to 1 (very high) and
(action 3) assign partner "user" as partner function 00000014 (employee responsible).
Step  5: Test 
When updating the service request, select the category you have used in the rule modeller, so the condition gets fulfilled. Then, in the toolbar, select [More] à [Dispatch]. Now the rule will be executed.

All three actions will be executed. Result of action 1 and 3: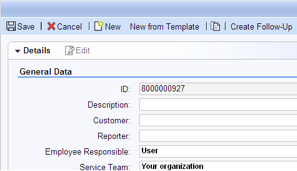 Your organisation will be 50000164 in our example.
Tip
You can use action DISPATCH to trigger the dispatch automatically. (BADI implementation CRM_SRQM_DISPATCH)